In short: I think AusPen refillable whiteboard markers are a good product and worth the money. I bought the starters set with bullet nib, 6 markers with different colours (black, blue, green, orange, red, purple) and re-filler. It costed me about €35 excluding shipping. Shipping to EU cost (at the time of writing) $25 Australian dollars. Prices of refill ink, new marker nibs and other supplies can be found on the website of AusPen.

Disclaimer: these are my own words based on my own experience. I am not affiliated with the company in any way.

Floris Assies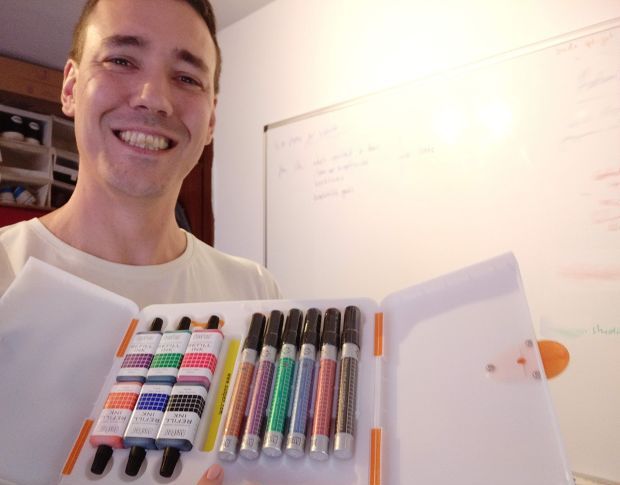 I love my whiteboard! A day doesn't go by that I don't use mine.
Last year I bought myself a proper size (120 x 90 cm) whiteboard on Amazon for the holidays. It came with a pack of standard utensils (whipper, market and magnets). The markers (brand Bi-Office) ran out in no time. Plus they had a very big tip that quickly wore out and wrote horribly. I ordered a pack of BIC markers in a bunch of colours. With those I was a lot happier. About 4 of 5 months later the blue and black marker were noticeably getting empty and it was time to buy more…
And that got me thinking: I already have then pen, can't I just refill them? A quick search didn't gave my any satisfying results. Now I could have just try and experiment by ordering some refill ink and try to inject it in. But I decided not to make a mess and waste my time.
So which refillable whiteboard marker brands are there in the market? I quickly found a couple of ads and my eye first fell on AusPen. Bravo, well done,a company that bothers to get their SEO right. This is an Australian company and they appear first even though I am in Spain. They ship worldwide but for what price? I am about to find out…
I also quickly looked at Amazon and the other results, but what I immediately liked about AusPen, and not about the others, is that AusPen uses a pen made from aluminium, and the others were plastic.
After browsing the website a bit, reading up on the company and looking at the different products, I decided to go for the full starters set with the bullet nib (the point that you write with, you can also choose chisel nib). $53 Australian dollars, that is about €32 for 6 pens with refill ink (color blue, black, red, orange, green and purple) in a pretty box. Now for comparison, a set of 6 BIC cost a bit less than €10 including shipping. But these are supposed to last a lifetime AND very important, in contrast to the BIC and other brands, these don't contain (or at least, that is what they claim) any harmful toxics. As it says on the package "xylene free".
So, add to shopping card and go to check out. Ship to Spain, address etc… $25 dollars shipping!!! Auch. Ok, let's reconsider this before finalizing the payment. Are there any resellers in the EU? Nope. Other alternatives? So I started looking at other brands but soon realized it was the AusPen that I wanted.
Fortunately, I realized a friend who lives in Melbourne was coming over to visit his in-laws in Spain (like me, a guy who travelled a bit in Spain and ended up with a Spanish wife). Some messages later and it was settled. I would have it ship to his address and he would bring it to Spain with him. Shipping now only costed $8 and I saved myself a bit over €10.
Unboxing the Auspen markers
So what is the experience? I've been using them now since september 2019 and I am perfectly happy with them. The colours are nice and bright. So far I haven't had the need to refill any. Once that is the case, I might make a video and share it.
Are they any different from the Bic that I used before? Yes, I like them better because they are bigger and the last Bics that I bought where narrower. A difference I noticed is that I have to rub a bit harder to clean the whiteboard. Especially when it has been on there for a couple of days or more. But it's not so bad that it's a problem. And the plus side is that quick corrections, when you quickly erase something with your hand of finger, is nice to think that the ink is less unhealthy? Would be interesting to learn a bit more about that though. What is exactly in the ink and how does it compare to regular? And does using AusPen whiteboard markers help reduce my ecological footprint? I should reach out to AusPen, maybe they'd like to comment. For anyone reading this, feel free to comment down below if you know more.
Are the AusPen whiteboard markers more expensive than regular?
At initial purchase, yes. A regular proper marker that I would use a lot (e.g. colour blue or black) last me max 6 months (likely less) and costs on average €1,50. So if the AusPen lasts me more than 10 years it would be cheaper plus I would have prevented at least 20 empty once from being thrown away. And that is what makes it totally worth it.
Does using AusPen whiteboard marker help reduce my ecological footprint?
Pending. Awaiting input
So far my thoughts on the Auspen refillable whiteboard markers. Might be updated in the future. If you have any question or comments, leave them below in the comment section. I'm looking forward to read them.